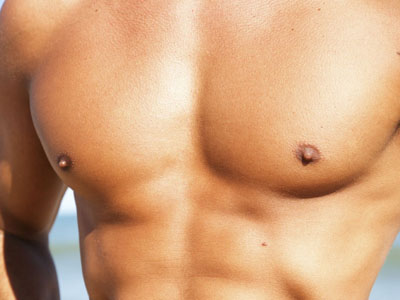 Gynecomastia is swelling of the breast tissue in boys or men, caused by the abnormal enlargement of the male breast because of an excess of fat in the zone. Men and boys with gynecomastia may feel embarrassed.
Gynecomastia – Institute Perez de la Romana
For teenagers, enlarged breasts can be stressful and embarrassing what is why surgical removal of glandular breast tissue is usually required. The results of this procedure are very satisfactory. Patients experience a big change in their daily activities and increased self-esteem.
The procedure is done with sedation and local anesthesia. Through a tiny incision in the areola gland the existing excess fat under the skin is removed. In cases where there is also excess skin, the areola will be reduced to get a flat, aesthetic and harmonious chest whit no noticeable scars.
The cause of the formation of this gland is unknown but a number of medications can cause gynecomastia, such as medication with estrogens and anabolic steroids.
It is necessary a blood tests.
If you are taking any medication or if you have a disease you should warn your surgeon.
Avoid taking aspirin, acetylsalicylic acid or anti-inflammatory drugs 15 days before the procedure.
Your surgeon might prescribe pain medication.
While you're healing, you must wear a compression garment for 1 month.
Avoid strenuous activities, anything that could raise your arms or blood pressure for at least one week.
You can receive lymphatic drainage massage and exercise.
It might help to wear a compression bandage for a week and after 3 or 7 days the patient returns to the daily routine.
Order your appointment completing the form below
---